2022 Miss Rodeo Enterprise Royalty!
Queen - Emily Stout

The 2022 American Legion Enterprise Rodeo Queen is Emily Stout. Emily is the 17 year old daughter of Stuart & Heidi Stout. Emily was born and raised in Hurricane Utah and enjoys fiddling, country swing dancing, working on her family farm and competing in rodeos.
Princess - Ashlynn Plough

This years American Legion Enterprise Rodeo Princess is Ashlynn Plough (plow). Ashlynn is the 15 year old daughter of Josh and Rachelle Cooper. Ashlynn was born and resides in St George. Ashlynn is a talented artist, plays violin, is an aspiring vet. She loves her horse and the cowgirl way of life. Ashlynn competes in barrel racing and pole bending.
Jr Princess - Tilli Jo Truman

The JR Princess is Tilli Jo Truman. Tilli is the 7 year old daughter of Truce and Carli Truman of Enterprise. She enjoys rodeoing on her horse Chrome, playing softball, basketball, soccer, dancing and being with her family. Tilli is friends with everyone, always has a smile on her face and brings joy wherever she goes.
Queen Attendant - Zoey Durbin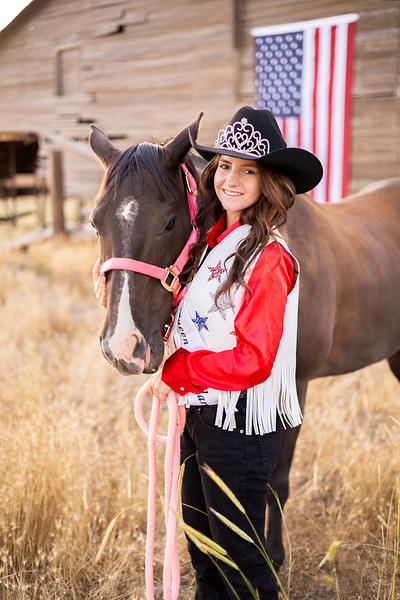 The 2023 Enterprise Rodeo Queen Attendant is Zoey Durbin. She is the daughter of Donavan and Jodi Durbin. Zoey was born in Colorado and has resided in St.George for 2 years, Her hobbies include gymnastics, color Guard, riding horses and jeeping.