2019 Miss Rodeo Enterprise Royalty!
Queen - Kaia Goulding

This years American Legion Miss Rodeo Enterprise is Kaia Goulding. Kaia is the 12 year old daughter of Dusky and Nicole Goulding of Hurricane, Utah. Kaia attends Hurricane Intermediate school as a 7th grader and while she loves almost all her subjects in school, she mostly looks forward to the end of the day when she can ride her horses. She is actively involved in the 4H horse program and the Color Country Equestrian Club Horse Shows. Kaia is so excited to represent Enterprise as their queen for 2019.
Princess - Ava Christensen

The Enterprise Rodeo Princess is Ava Christensen. Ava is the 11 year old daughter of Allen and Amy Christensen. She lives in the city of St.George and attends tonaquent intermediate school. When Ava is not at school she is riding, grooming or caring for her horses, She also loves to mountan bike, swim, read and spend time with her family. Ava is so happy she has had the chance to become Enterprise Rodeo Princess.
Jr Princess - Shaniya Hope Jimerson

The 2019 JR Princess is Shaniya Hope Jimerson. Shaniya is the six-year-old daughter of Jessica Jimerson from New Harmony, Utah. Shaniya loves riding her horse, Lucky and putting on her best dress for playing in the dirt! She is not afraid of work or getting her hands dirty! When not in the saddle, she loves to cook for the family. She likes her food spicy and makes delicious homemade salsa! Shaniya's outgoing personality has won her many titles, including Miss American Starlet at age 4, and qualified her for nationals. Above all, Shaniya loves taking care of others especially her little sister and says she wants to become, "a Nurse Practitioner like Mommy."
Queen Attendant Saiydee Faiyth Jimerson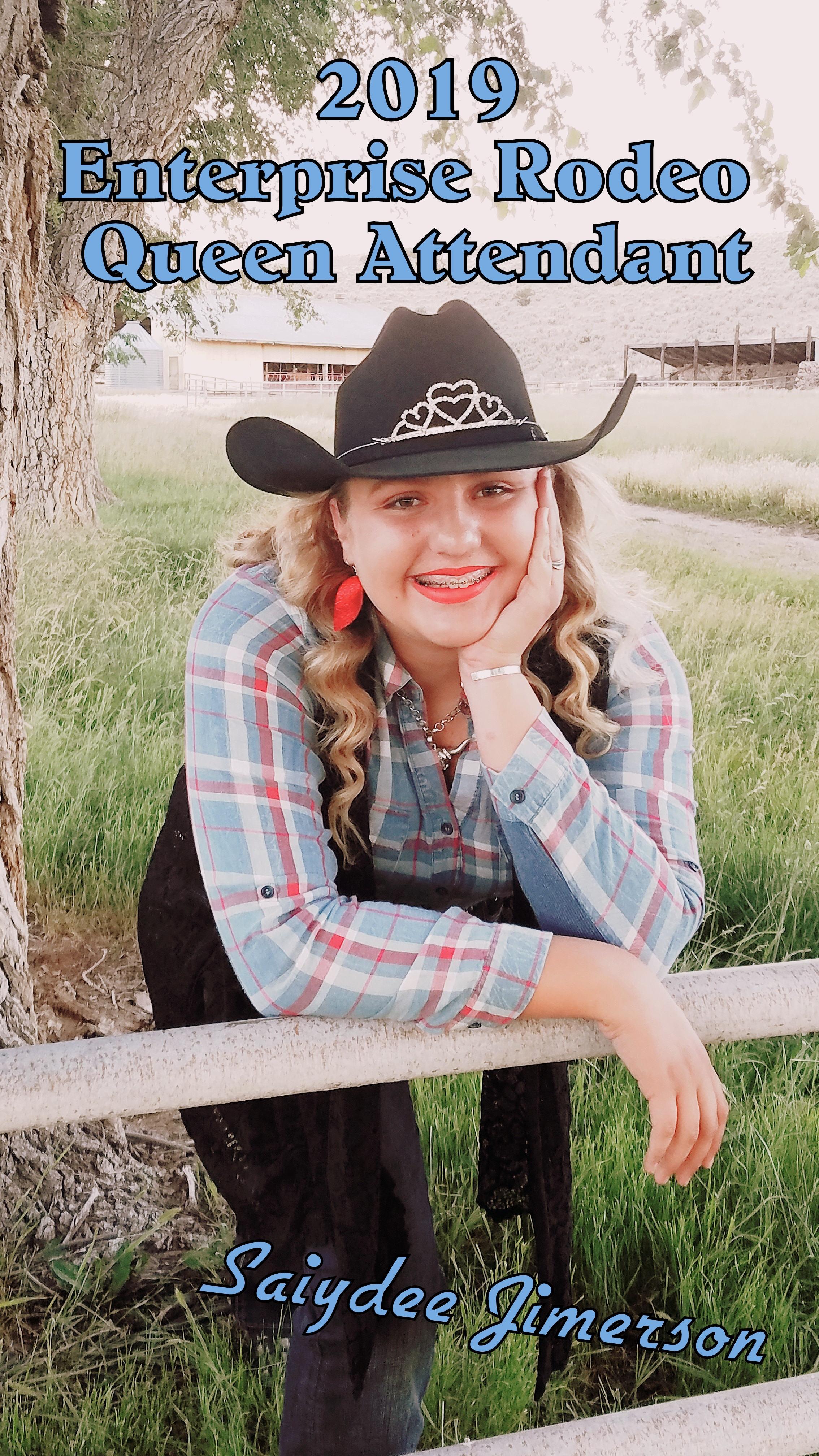 This years Queen Attendant is Saiydee Faiyth Jimerson. Saiydee is the thirteen-year old daughter of Jessica Jimerson from New Harmony, Utah. Saiydee enjoys reining, horse training, 4-H, and barrel racing. Outside of the arena she plays volleyball, basketball, and violin. Being an all-outdoors type of girl, you can also find her hunting, fishing, and fourwheeling. Saiydee is a natural leader and maintains high honors. She is a member of student council, and enjoys helping her peers. Along with furthering her passion for horses and rodeo, she plans to pursue a law degree in becoming an attorney.
Princess Attendant Saiyzha Grace Jimerson

Attendant to the Princess is Saiyzha Grace Jimerson. Saiyzha is the nine-year old daughter of Jessica Jimerson from New Harmony, Utah. Saiyzha was Enterprise's Jr. Miss Rodeo Princess in 2018 and enjoys being an ambassador for her favorite sport of all...rodeo! She has a need for speed and loves barrel racing. Saiyzha also enjoys reading, choreographing dances, and performing in singing competitions. If she isn't on her horse, then you can find her caring for stray animals and playing with her many cats, dogs, or chickens. She is a lover of all animals and plans to become a vet one day.